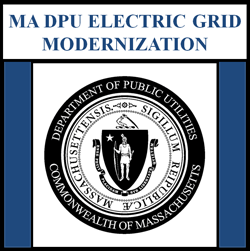 In October 2012, the Massachusetts Department of Public Utilities (DPU) issued a Notice of Investigation ("NOI") , into the modernization of the electric grid. The NOI laid out the DPU's vision for electric grid modernization, and raised numerous questions on both grid-facing and customer-facing issues. The DPU established a Steering Committee made up of utilities and other stakeholders to provide recommendations to the DPU by early July of 2013. As an initial step in this investigation, the DPU held a kick-off workshop on November 14, 2012.

Through this investigation, the DPU sought to explore key issues of grid modernization, specifically recognizing the important role that grid modernization can play in (1) improving grid reliability, especially during extreme weather conditions; 2) increasing customer control over usage and costs; and (3) improving system efficiency. The investigation explored both "grid-facing" elements, which improve the reliability and efficiency of the electric grid itself, as well as "customer-facing" elements, which are directed at increasing customers' control of their own usage and reducing customer costs. The goal of the DPU was to advance grid modernization in Massachusetts, while carefully considering potential costs to ratepayers.

Charting the path to grid modernization required a review of the benefits and challenges involved, and developing: (1) an understanding of the current status of the electric grid infrastructure as it relates to grid modernization; (2) modernization objectives and an implementation strategy for the grid-facing elements; (3) modernization objectives and an implementation strategy for customer-facing elements, including dynamic pricing structures; (4) an understanding of the costs and benefits of grid modernization; (5) an approach to cost recovery for grid modernization infrastructure; (6) an approach to customer engagement and acceptance; and (7) an approach to issues such as security, privacy, interoperability, and concerns about health effects. The DPU also sought input from various stakeholders on the sequence and pace for advancing grid modernization.

Raab Associates and Synapse Energy Economics assisted the DPU in the design and facilitation of both the kick-off workshop and the working group process. The Steering Committee met regularly and collaborated on the language for the Final Report, which was submitted to the DPU on July 3, 2013.